Campaign themes:
Feature products in a

relatable setting



Relevance attracts visitors - relatable content converts them to customers.
By integrating Campaign Themes on your website, you can present customers with highly relevant products driven by relatable and engaging content.
In short Campaign Themes are specialized at maximizing gains from the campaigns that drive traffic to your website.
Relevance and relatability creates conversions
Consumers has a lot of options, but their ultimate decision relies on their gut feeling. Campaign Themes lets you tap into the mindset of your visitor and help them feel confident in their decision making.
Take mothers day for example - wouldn't you like to browse jewelry worn by people rather than on white backgrounds?
Leverage every campaign occasion
Use Campaign Themes as a part of your scheduled campaign activities and easily create inspiring landing pages ahead of time.
Because AVIOU is so easy to use, it takes no time to create a new campaigns to run on your website. Got an idea for a campaign at a meeting? Build it and have it up and running the following day.
Lower bounce rate with a consistent customer journey
With AVIOU campaign themes visitors who click on your creative ads will be met with a landing page that maintains the creative style that caught their attention in the first place keeping them engaged and less likely to bounce.
Campaign Theme results:
Garden furniture campaign


AVIOU vs. traditional category page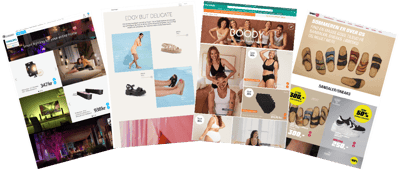 Get four live examples

Receive four different live publications and try out AVIOU for yourself.