Dynamic catalogues:
Showcase products with focus on

great deals



Dynamic catalogues highlight discounts and special offers and are effective at converting customers motivated by price.
The catalogues is best used showcasing a broad variety of products so that curious consumers can explore your selection.
Highlighting call-to-action
Catalogues can leverage a lot of different ways to highlight savings and features of specific products. By using splatters, icons, sliders and hotspots you can control how much attention you want to draw to products.
AVIOU can even use your feed to make automatic conditions for when to show different prices, splatters or info based on your needs.
Increases average order size
Inspirational Catalogues makes people buy more because they stay engaged. Interesting visuals and appealing savings keeps them scrolling to discover the deal they didn't know they needed. When they find it, they can add it to their cart with a single tap and resume where they left off.
Performs better than PDF catalogues
Dynamic catalogues set themselves apart from traditional flip-PDFs by being optimized for digital media. No small text, pinch-to-zoom or flipping. Just exploration by scrolling in a responsive catalogue that works great on all devices. Read more about how catalogue user-friendliness has direct impact on sales below.
Dynamic catalogue results:
Week 17 special deals catalogue

AVIOU sessions vs. other sessions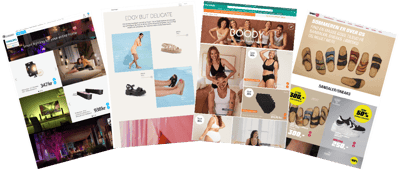 Get four live examples

Receive four different live publications and try out AVIOU for yourself.