The E-commerce Boosters:
Make

merchandising easier and more effective
The E-commerce Booster is a new way to highlight products in a specific category and create lower-funnel conversions.
The boosters are short publications placed above your category product grid, that are perfect for pushing bestsellers, new products or never-out-of-stock items on your web shop.
Bringing inspiration to category pages
Category pages provides a nice overview of products, however they fall short when it comes to inspiration. The E-commerce Booster lets you create appetizers that retain visitor's interest throughout their customer journey.
Push specific products
Use the E-commerce Booster to highlight specific products and push items you'd like to sell more off and swap them easily if need be. You can also promote relevant products from other categories. Should you ever run out of stock, you can easily replace the product with just a couple of clicks. Merchandising has never been easier.
Boost lower funnel conversions
E-commerce Boosters lets you set the mood for a category which strengthen visitor's engagement. This way we increase conversion rates for those valuable visitors that have already shown initial interest in your offerings.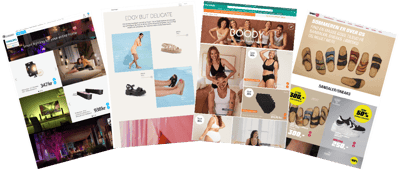 Get four live examples

Receive four different live publications and try out AVIOU for yourself.