Inspiration that engages and create sales

AVIOU is an online platform that enables you to easily create inspiring content, that engages visitors and makes them far more likely to convert.
Create

,

control

and

optimize

inspiration

The AVIOU Inspirational Shopping Platform lets you create, control and optimize inspirational e-commerce activities across your website. AVIOU is the first of its kind with a focus on user-friendliness and digital performance.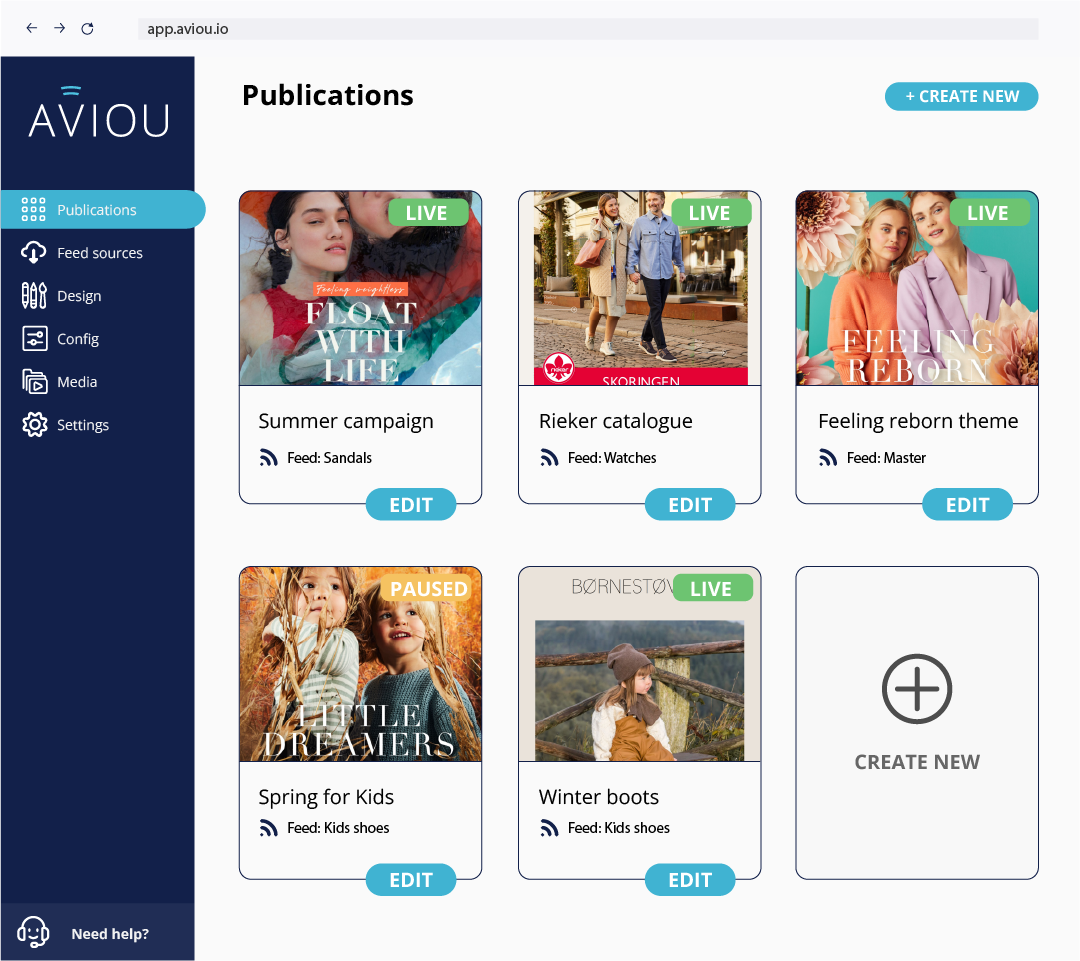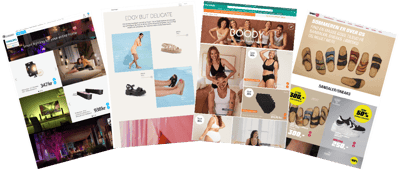 Get four live examples

Receive four different live publications and try out AVIOU for yourself.
A platform optimized to leverage creativity and conversion

Feed based
AVIOU pulls your product titles, descriptions, prices, discounts and various other data from your system minimizing manual work and ensuring that your publication is always up to date.

Live-editor
What you see is what your customers get. With our live-editor's intuitive design and drag-and-drop features we make sure, that anyone in your company can use our platform. Simple as that.

Fully integrated
Embed publications seamlessly to your site and let customers add products to their cart without ever leaving it. Enrich your customer journey with inspirational universes exactly where they are needed.

Responsive design
All publications are responsive and adapt to mobile, tablet and desktop. You can even track user engagement across devices to optimize performance and conversion.
Bring inspiration to category pages

AVIOU lets you present your products in a new and inspiring way that will influence visitors' desire to purchase. The AVIOU E-commerce Booster is perfect as a category appetizer making it easy for you to promote specific products while also providing a visual exploration of products for your visitors.
Read more about it on our case with Coolshop, who increases their sales by adding inspiration to their category pages.
Outperforming PDF catalogues
AVIOU provides a fully digital alternative to the print and PDF catalogue. Our platform is both optimized for digital devices and their users' behavior. You don't flip through AVIOU catalogues. You scroll through it and interact with it the same way you do with Instagram and Pinterest.
Read our case about SPORT 24 who drastically increased their catalogue sales by switching from print and PDF catalogues to AVIOU.
What is Inspirational Shopping?
Inspirational Shopping is synergy between visual stimulation and shopping ease which increases visitors' intent to purchase.
Inspirational Shopping is all about adding inspiration to the e-commerce customer journey. The goal is to make the exploration of web shops as exciting as browsing Instagram or Pinterest when looking for inspiration. All this while maintaining the ability for visitors to easily add products to their cart, when they feel inspired to do so.
What skills do you need to work with AVIOU?
AVIOU is easy for anyone to use. Our live-editor makes it simple and intuitive to design a campaign, catalogue, brand presentation, or whatever you would like.
On our platform what you see, is what you (and your customers) get, making it easy to have maintain focus on the customer journey throughout the publication. In many ways building an inspirational shopping universe is like creating a traditional catalogue. Captivate visitors with stunning visuals and keep them engaged by showing relevant products in environmental images.
You do not need to be a graphic designer or an InDesign pro to make great AVIOU publications. All you need is knowledge of your customers and a creative idea. Ask yourself questions like: "What interests do our target customers have? What do they not yet realize they need yet?", and you are well on the way to convert more visitors to customers.
Curious about AVIOU?
Let's get in touch and discuss how your business can leverage Inspirational Shopping