Made to increase sale through
inspiration

and

engagement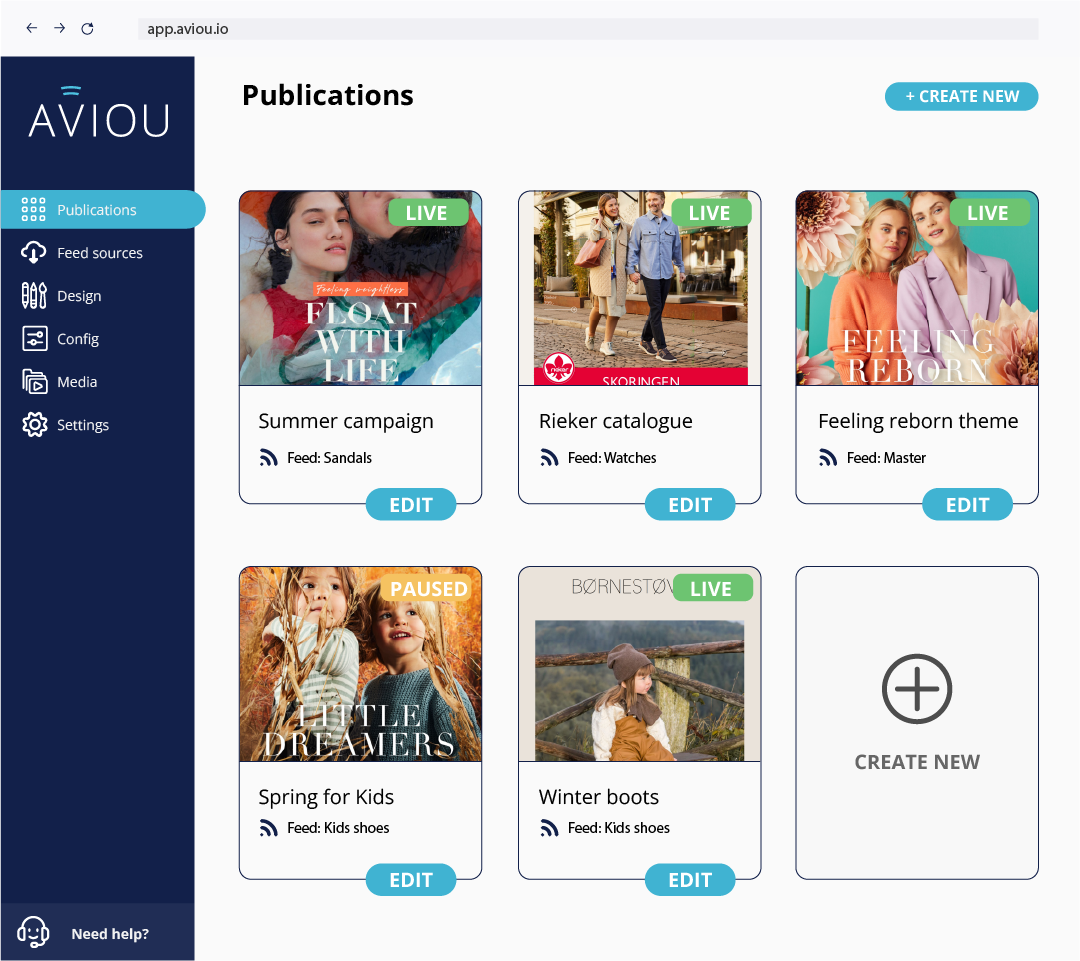 AVIOU is an online publication builder that help you create shopping experiences that are both truly inspirational and extremely convenient for your customers.

Here you can read more in-depth about all the featues that makes AVIOU an innovative marketing tool. Or you can of course just get in touch and let us explain it for you.
Using your feed to succeed
AVIOU is unique because of our feed based publication builder. We integrate data from your feed and make them available to you in our live-editor. This way all you have to do is select a product and data like name, brand, price, discounts and images will be pulled into AVIOU as well. We can even pull data from other sources like a Customer Data Platform or PIM system, and use this to personalize the experience for your individual customers.
This way you can spend less time doing manual work like typing, uploading, or linking and more time actually creating inspiring publications.
Optimized for users
We make digital formats for digital devices. This approach differs from the traditional PDF that displays printed formats on digital devices. However customers today want a truly digital experience, that is both responsive and easy to use, which is why all publications built in AVIOU are responsive. When on your smartphone, the publication is shown vertically in the same fashion as Instagram and Pinterest. On desktop and tablet however, elements takes advantage of the bigger screens by aligning horizontally as well.
Fast track creativity with the live editor
The live-editor makes sure that you are always aware of your customers' point of view. When creating your publication, you can instantly see what the end result is going to look like on desktop, tablet and mobile. We make it easier than ever to move products around with drag-and-drop features, making sure that your adjustments to your publication will take no time - even if it is live on your site.
A seamless part of your website
AVIOU can easily be naturally integrated on your site using an embed-code. This means that users won't be able to tell, that you are using an external service for your publication.
With AVIOU you don't have to rely on web developers, graphic designers or external partners when you want to create new marketing content for your visitors. Anyone can create a publication, choose where to put it, and paste the code. This means you can use AVIOU for campaigns, catalogues, featured products, upselling, brand presentations or something completely different.
Unique add-to-cart integration
Customers are able to add products to their cart with a single click – just like they would on the rest of your site. Since our platform is connected to your feed, we can even make a tailored add-to-cart experience. We can let customers choose color, size, variants and see stock before adding the item to their cart. This can all be done directly in the catalogue, making sure that customers easily can resume exploring it from where they left off.
Tailored for your brand DNA
Every business is different, which is why we always meet with clients to discuss their specific business and needs. We make sure that new publications are in sync with brand guidelines and displays the information that is important to the business and relevant to the customers. Our templates let you create unique catalogues with engaging campaign visuals all while staying on-brand. This way the customers have no doubt about what brand they are interacting with, when they browse through your publication. Reach out if you want to know, how it would look for your business.
Inside look:
Create a publication in a matter of minutes


Curious about AVIOU?
Experience AVIOU from the end customers point of view or get in touch and learn all about Inspirational Shopping.