Inspirational Shopping:




An innovative e-commerce mindset



Inspirational Shopping is a new way of thinking e-commerce and the mindset on which AVIOU was built. Here you can learn more about why it is important and how you make it a cornerstone of your future customer shopping experience.
Definition of Inspirational Shopping:
Inspirational Shopping is synergy between visual content and shopping ease, making people more likely to buy.
Specialized at closing the gap from inspiration to action
E-commerce stores are specialized at making shopping convenient, however they fall short when it comes to inspiration. Product grids with white backgrounds doesn't really stimulate and engage visitors.
This is where catalogues, magazines and ads shine. They enable you to be creative and to showcase products in relatable settings that inspires and creates desire. Their weakness is of course the strength of e-commerce: to convert consumers.
Inspirational Shopping aims to take ownership over the whole process and showcase products in an inspiring way while making it easy and convenient to act the moment a choice is made. This way you contain inspiration and action to your own site, retaining more customers.
Take inspiration ownership
We often see brands focus on offering inspiration on external platforms – Instagram, Pinterest and Facebook. Inspirational Shopping, however, is about also being the source of inspiration. To offer visitors inspiring content on your own site that makes them eager to view (and buy) more.
Providing inspiration on both SoMe and your own site synergize very well. People who value inspirational content on SoMe appreciates on-site activities fueled by Inspirational Shopping even more than their peers, making purchase a matter of when rather than if.
Setting the shopping mood
Inspirational Shopping has a holistic approach to product presentation. It's not only about presenting a product in an aesthetic way, but rather in a meaningful setting. Inspiration is best facilitated when the tone and mood match the expectation of the customer.
The visuals of an autumn sale can for example be cozy and homey when you sell slippers, while it could be focused on nature and weather when you want to sell winter boots.
In this way Inspirational Shopping is about creating universes on your site that are tailored specifically for your customers and the action you want them to make.
The benefits of an Inspirational Shopping Platform
Brands that understand the importance of inspiration and how to use it, have an advantage because they can offer a better experience for their customers. This improved experience is rewarded with more conversions and interest in the brand. If you want to see how the AVIOU Inspirational Shopping Platform has helped other brands, take a look at some of our cases.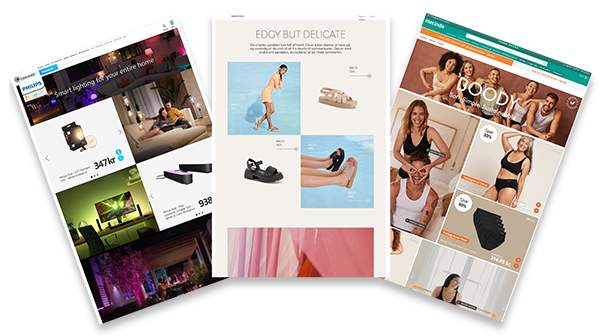 Curious about AVIOU?
Receive four live examples of AVIOU or get in touch and learn all about Inspirational Shopping.