Shoppable Branding:
Sell brand products

in inspirational universes
Shoppable branding is the ability to present a brand and its products in an aesthetically motivating way while simultaneously making it easy for the consumer to make a purchase.
With shoppable branding your brand won't need to compromise to create sales, providing a perfect balance between branding and conversion.
Bridging the gap between branding and selling
AVIOU lets you create non-compromise branding all the while maintaining the ability to purchase. Use discrete hot spots to draw attention to the fact that customers can actually buy into the engaging brand universe they are exploring.
Create a captivating brand universe
Use your great images and videos to create a brand journey for your customers. Create a setting and set the mood to fit your brand identity to make sure that you leave the right impression and nurture the visitors' intent to purchase.
Increase brand engagement
Maintain your customer's attention for longer and make sure that they stay engaged on your site. On average visitors spend 71% longer on pages with Shoppable Branding while also viewing 58% more pages per session compared to visitors who haven't engaged with Shoppable Branding content.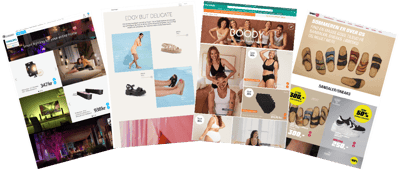 Get four live examples

Receive four different live publications and try out AVIOU for yourself.